Jeff Dobbins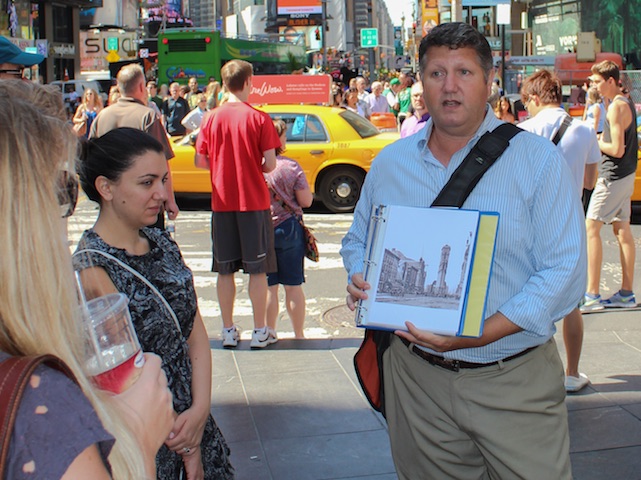 Tours:
"Gilded Gotham Tour"
"Christmas in Old New York Tour"
Jeff Dobbins is a tour guide and writer. Jeff has a decades-long career in New York's theater industry, working as a performer, writer, press representative for Broadway shows and manager of a Broadway Theater. He wrote five seasons of the Drama Desk Awards, collaborating with theater luminaries including Patti LuPone, Lily Tomlin, John Lithgow, Chita Rivera, Bernadette Peters, and Harvey Fierstein. Jeff has also written over 150 articles about NYC history and culture and created numerous specialized tours of the city. He helped launch Bowery Boys Walks with his Broadway Tour in the fall of 2018.
---
Emma Guest-Consales
Tours:
"Cast-Iron Architecture Tour of Ladies' Mile"
"Central Park History and Landscape Tour"
"Gilded Age Mansions of Fifth Avenue"
Emma Guest-Consales, Ph.D. is an experienced guide, lecturer, and author who has taught art and architectural history in New York City for more than fifteen years. Emma holds a doctorate degree in Italian Renaissance art, and has taught classes on the history, art, and architecture of New York City. Currently a resident of New Jersey, she lived in Manhattan for seven years, and continues to work in and around New York City.
Her tours specialize in the history of the architecture and urban design of the city, from its Dutch roots to the developments of today. She is an official New York City Tour Guide with a license from the New York City Department of Consumer Affairs, and President of the Guides Association of New York City.
---
Carl Raymond
Tours:
"Edith Wharton's New York Tour"
"Inside Old New York: Merchant's House Museum"
Carl Raymond is the host of the podcast, The Gilded Gentleman, produced by The Bowery Boys. He is also a licensed New York City tour guide, writer, lecturer, museum educator and food historian. Passionate about New York City history, he has worked at the Merchant's House Museum and King Manor Museum in education and marketing.  He speaks regularly on food and New York City history for organizations such as the Royal Oak Foundation, the Metropolitan Opera Guild, the National Arts Club and the English Speaking Union. He was a contributing writer on SAVORING GOTHAM: A Food Lover's Companion to New York City (Oxford University Press) and is at work on his own book, a culinary history of the Gilded Age.  www.thegildedgentleman.com
---
Kyle Supley
Tours:
"New York World's Fair Walking Tour"
Kyle Supley is a collector, host, entertainer, and licensed NYC tour guide. A design curator and consultant specializing in mid-century items, including lighting, furniture, and accessories, Kyle has been studying and collecting items from the World's Fairs since he was a child. He is also the creator and host of "Kyle Supley's Out There!" web series on Ovation's Journy network. He has an AAS degree from the Fashion Institute of Design, and a BFA in Fine Art Photography from the College of Saint Rose. He is a member of the City Reliquary Museum (where his 1939 NYWF collection is on permanent display). His first tour with the Bowery Boys uncovers today's remains of both the 1939-40 and 1964-65 World's Fairs in Flushing Queens' Corona Park, with more tours to come.
---
Mike Morgenthal
Tours:
"Ghosts of the Elevated Railroad: Downtown Manhattan"
"Stop the Presses! The New York Newspaper History Tour"
A lifelong New Yorker born and raised in Greenwich Village, Michael Morgenthal has been leading tours in his hometown since 2011. A licensed sightseeing guide in both New York City and Washington, DC, Michael has created numerous specialized tours across the Big Apple, with a focus on transit and culinary tours. Michael designed and led several tours for the NYC Transit Museum, so his debut tour for Bowery Boys, covering the Elevated Railroads in lower Manhattan, is a natural fit. Michael currently serves as Vice President for the Guides Association of New York City (GANYC). Prior to becoming a tour guide, Michael worked as a magazine editor and freelance writer for 15 years. 
---
Krikor Daglian
Tour:
"Artists, Oddballs & Provocateurs: East Village since the 1950s"
Krikor Daglian was born in NYC, grew up in suburban NJ and went to college in Maine, but after a few months living in London, he realized that he wanted to live in a city again, so he decided to come back to where it all began.
Now a New York City resident for nearly twenty years, Krikor has walked, biked, driven, subway-ed, bused and boated around much of the city. During his time here, he's played in a couple of rock bands, written and edited for a guidebook to the city, worked in many different industries (web start-up, market research, beauty), prowled the city as a street photographer and generally absorbed as much as he could about the many facets of New York's rich culture.
---
Amy Cook
Tour:
"Historic Hotels of Midtown Manhattan"
Amy Cook is a licensed tour guide with certification from the Guides Association of New York City. She has a BA in History, with a specialty in Urban Planning. Amy got her start giving tours at a winery in Charlottesville, VA, but has called Brooklyn home for almost 25 years and loves to visit historic hotels around the world. She contributed to the book Mad Men Carousel and presented at Mad Men: The Conference. Her favorite Manhattan yearly event is the Tartan Day Parade.
---
Tom Rinaldi
Tour:
"Neon in New York: The Historic Signs of Greenwich Village"
Tom Rinaldi is a tour guide and author of Neon New York, a book released by W.W. Norton that presents a documentary homage to old neon signs in New York. Raised near Poughkeepsie in upstate New York, he visited New York City frequently before moving there in 2004. He is the co-author, with Robert J. Yasinsac, of Hudson Valley Ruins: Forgotten Landmarks of an American Landscape.
---
Aaron Schielke
Tour:
"Jane Jacobs vs Robert Moses Walking Tour"
"Gilded Age Mansions of Fifth Avenue"

"Landmarks & Secrets of Madison Square"

Aaron Schielke is a licensed New York City tour guide who loves exploring cities. He has worked on the design and production of a series of city guidebooks. Aaron has a BA in Architecture with a focus on urban design. He's excited to be leading the Jane Jacobs vs. Robert Moses Bowery Boys Walk.
---
Patrick Bringley
Tour:
"An Insider's Tour of The Met Museum"
Patrick Bringley is a former New Yorker staff member and museum guard at The Met for ten years. He is the author of the forthcoming book All the Beauty in the World: The Metropolitan Museum of Art and Me.
---
Billy Nemec
Tour:
"Gilded Age Mansions of Fifth Avenue"
Billy Nemec is an experienced tour guide and jazz musician with a deep knowledge of the Gilded Age. He has a certificate of Historic Preservation from New York University.
---
Beth Goffe
Tour:
"Secrets of Glorious Grand Central Terminal Tour"
"Scandalous Tales of the Upper West Side"

Beth is a long-time resident of the Upper West Side who makes a habit of collecting interesting and entertaining stories about her home neighborhood
---
Joseph Landon
Tour:
Joseph Landon is a licensed tour guide with over 20 years of experience in the tourism, entertainment and hospitality industries.
Joseph's passion for music and history is evident in his tours, which often feature live performances by local musicians and artists. He also collaborates with local historians, community leaders, and cultural institutions to provide a unique and authentic perspective on the city.
For Joseph, leading tours and curating experiences is not just a job, but a way of life. He is dedicated to sharing his love and appreciation of New York City with others, and helping to preserve the city's unique history and culture for future generations to enjoy.