Here are some reason mentions of Bowery Boys Walks in the press.
December 2022 – Bowery Boys Walks on NY1!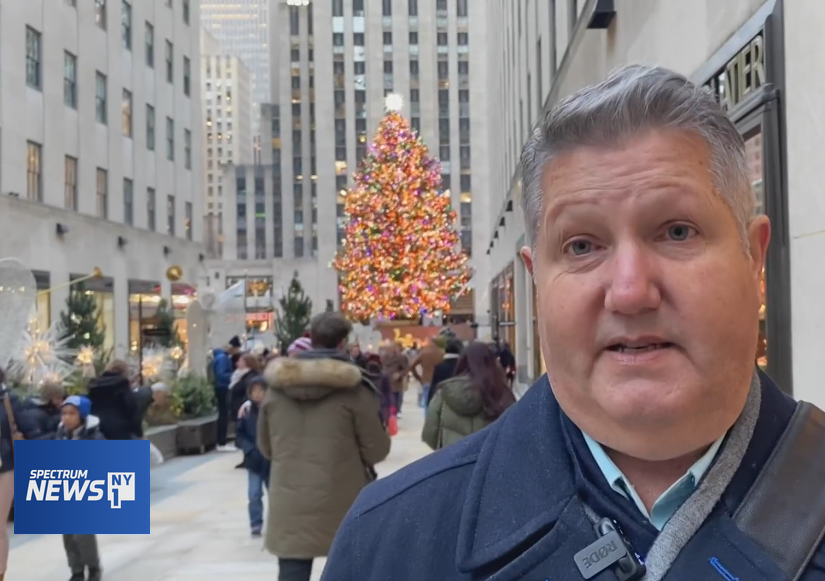 Just before the holidays in 2022, our tour guide, Jeff Dobbins, was asked to appear on NY1 (a local news station) to talk about the history of Christmas in New York City.
Jeff gives an annual Christmas in Old New York Tour both in the streets of Midtown and online, and his expertise made him the perfect guest on the segment.
Watch the clip below:
---
March 2022 – Gilded Age Mansions Tour featured in The Boston Globe
Our guide Emma Guest-Consales developed an incredible tour that takes you up Fifth Avenue to see the stunning mansions that remain from the Gilded Age. The Boston Globe interviewed Emma for their article, "How to immerse yourself in 'The Gilded Age' of New York, or at least get a glimpse of it."
"There was a change from building enormous mansions to building enormous luxury apartment buildings at the beginning of the early 1900s," said Dr. Emma Guest-Consales, who leads Gilded Age architecture tours through the company Bowery Boys Walking History Tours. "The only thing guaranteed in New York City is that it's always going to change, and that goes for these Gilded Age mansions as well. In the period right around World War I, and just after, it was no longer practical to sustain this kind of lifestyle and these kinds of houses. That's when they started to disappear."
March 2021 – Edith Wharton Tour featured in the Associated Press
Our "Edith Wharton's New York" Tour was recently mentioned in an associated press artice, "Call of the wild: Great outdoors is great escape in pandemic." Created by Carl Raymond, host of The Gilded Gentleman podcast and a tour guide, this tour offers an insider's look at the Gilded Age.