Bowery Boys Walks private walking and virtual tours
Did you know that Bowery Boys Walks also organizes private and educational tours? Explore New York City with our hand-picked guides who bring history to life.
From intimate tours with your family or friends to a special outing for your organization or school group, we can work with you to deliver an unforgettable Big Apple experience. We have worked with community groups, law firms, high schools, universities, libraries, and Fortune 500 companies.

Most of our current walking tours are available for private experiences.
In addition, we can lead tours of:
Gilded Age Tours
Ghost Tours
Architectural Tours
Dutch New Amsterdam
Midtown
Harlem
Chinatown
Upper West Side
Theater District
Grand Central Terminal
Upper East Side
Seneca Village in Central Park
SOHO
Brooklyn Heights
DUMBO
Park Slope
Bedford-Stuyvesant
Weeksville
Mott Haven
Riverdale
Jackson Heights
Forest Hills
Astoria
Private Tours with Carl Raymond, host of The Gilded Gentleman Podcast
We can arrange a very special private experience with podcast host and tour guide, Carl Raymond. His award-winning podcast, The Gilded Gentleman, is produced by Bowery Boys Media.
Private Tours with Esther Crain, author of The Gilded Age in New York
Tour the Upper West Side's most glamorous street, Riverside Drive, with Esther Crain as your guide for a one-of-a-kind tour to see the stunning Gilded Age memorials, monuments and mansions.
Private Virtual Tours
We now host private tours on Zoom. Our guides have worked with conferences, universities, law firms, and businesses to arrange fun virtual experiences. Our live online tours are an easy way to bring people together in a socially-distanced environment and learn about New York City history!
Contact us for more details and pricing.
Private walking tour pricing
In-person walking tours are two hours long. Please Contact us to inquire about private tour availability.
---
Custom Tours
Would you like to explore a part of New York history that we don't currently offer as a tour? We can customize any of our current tours or even create a new one just for your group.
Prices vary, so contact us for more details.
---
Educational Walking Tours
Looking for a walking tour for your academic group? Our guides are experienced with leading educational and academic groups and can modify any of our tours to fit your needs. We'll help bring history to life for your school group!
Prices vary, so contact us for more details.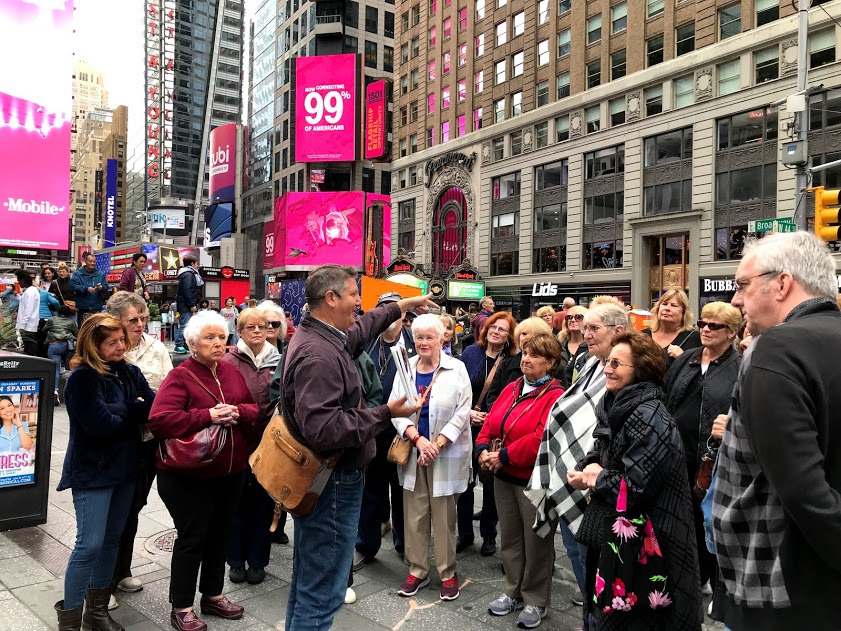 Full and Half-Day Tours
Explore the histories and mysteries of New York City on a private Bowery Boys Walks tour. On a full-day or half-day tour we'll explore New York's iconic sites, fascinating neighborhoods, and uncover a few secrets and surprises.
Your customized tour will feature the Bowery Boys' blend of history, humor, and intriguing tales of New Yorkers. The tour is ideal for those looking to explore NYC more deeply — discovering the city's rich history, hearing the compelling stories behind famous sites, and delving into places that tourists often miss. It is an intimate, immersive NYC experience with a local expert guide.
Suggested Sites for Your Custom Itinerary
Central Park – see the park's most famous sites and learn about its history and design
Masterpieces of Midtown – St. Patrick's Cathedral, Rockefeller Center's Art Deco architecture and art, Radio City Music Hall (outside), the New York Public Library, Bryant Park (former Potters' Field and scene of the 1863 Draft Riots), the Chrysler Building (outside), and Grand Central Terminal. We'll explore the intriguing stories behind these famed sites and reveal many of their secrets.
Lower Manhattan – The Battery, with views of the Statue of Liberty and Ellis Island, Trinity Church, Wall Street, the new World Trade Center's striking architecture, and the September 11 Memorial. We'll tour the city's colonial roots, learn about Lower Manhattan's colorful past, and explore the events of 9/11 from a New Yorker's perspective.
Brooklyn Bridge and waterfront – historic Brooklyn Heights, DUMBO, Brooklyn Bridge Park and, of course, a stroll across the famed bridge.
Greenwich Village – we'll dive into "America's Bohemia."
Historic Chinatown and Little Italy – a terrific stop for lunch or snack on a full-day tour
Lower East Side – learn how the immigrants lived, worked and worshipped
Harlem – the "Black Capital of America."
Statue of Liberty and Ellis Island (required ferry tickets not included)
SoHo
Tribeca
Broadway Theatre District
Prospect Park
Full day tour duration: Eight hours
Half-day Tour: Five hours
On your custom tour, we'll explore more sites than tourists can typically visit in a day. Your expert guide will plot the most efficient routes, avoid the crowds, and maximize our time.
Your private tour will be tailored for you. It is YOUR DAY, so we'll progress at your pace, focusing on your interests (be they history, culture, cuisine, architecture, great photo ops, etc.). And we're free to take a break for a beverage, a snack, to rest your feet, or simply take in the ambiance.
Given Manhattan's troublesome traffic, the best way to experience NYC is on foot. Like a New Yorker, you'll be immersed in the city's streets and sites, walking and taking public transit between long distances. Taxis and/or Uber can be substituted at guests' request/expense.
Included in the cost of the tour:
An expert guide to provide in-depth commentary
Pre-tour consultation and itinerary customization
Insider advise to plan your NYC experience.
Not included in the cost of the tour:
Food or beverages
Guests' fares for transportation
Tickets to attractions, when applicable
Let's create an extraordinary day and explore NYC together! Contact us for pricing and more details.

---