Gilded Age Mansions of Fifth Avenue Tour
Walking Tour Overview
This tour focuses on the design and history of the great mansions of Fifth Avenue and their owners who constructed them as lavish displays of their wealth and status in Gilded Age New York City. The tour starts at East 70th St & Fifth Avenue (at the Richard Morris Hunt Memorial), just down the block from the Frick Collection and ends at the Cooper-Hewitt (2 East 91th Street), the former homes of two protagonists on this tour – Henry Clay Frick (1849-1919) and Andrew Carnegie (1835-1919).
Upcoming Dates:

Sunday, December 3rd at 11 am (Guide: Aaron Schielke)
Wednesday, December 6th at 11 am (Guide: Billy Nemec)
Sunday, December 10th at 2 pm (Guide: Aaron Schielke) – Sold Out
Sunday, December 17th at 11 am (Guide: Billy Nemec) – Only a few tickets left
Friday, December 15th at 11 am (Guide: Aaron Schielke)
Friday, December 22nd at 11 am (Guide: Billy Nemec)
Friday, December 29th at 11 am (Guide: Billy Nemec)
Book the Gilded Age Mansions Tour!
A review on TripAdvisor for our Gilded Age Mansions Tour:
Gilded Age Magic
"I did the Gilded Age walking tour with Emma. Loved it. Emma is a treasure with an unending amount of fascinating and fun information. She was an absolute delight and I learned so much about the architecture and social history of the Gilded Age. I cannot recommend her (and the Bowery Boys) enough."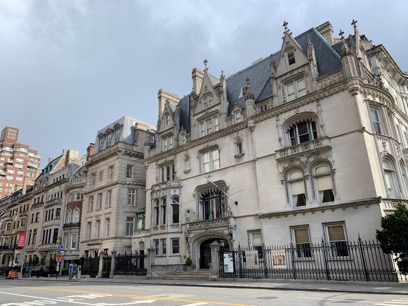 The term "Gilded Age" is used to refer to the period of booming economic growth in the USA in the second half of the 19th century. In New York City this is the period when robber barons like Frick and Carnegie built some of the most extravagant urban palaces the city has ever seen.
Beaux-Arts was the dominant style of architecture in this period, as the greatest American architects from Richard Morris Hunt to Stanford White to C.P.H Gilbert all studied abroad in Paris. These three architects and many others created French châteaux, Italian palazzi, Gothic castles, and Neoclassical mansions in the heart of New York City, and helped give Fifth Avenue along Central Park the cachet it still holds today, as one of the most famous residential neighborhoods in the city.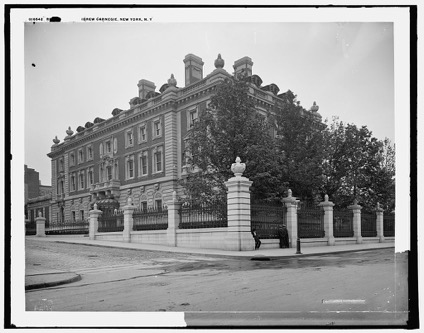 Tour guides Emma Guest-Consales, Ph.D., Billy Nemec and Aaron Schielke take turns leading this walk for a stroll up the avenue to gaze at grand residences, to see their exteriors, and to hear stories of their designers and owners.
Don't miss this experience that takes you back in time to the Gilded Age and up one of the most famous streets in the world.
---
Tour Highlights
The Frick Collection once the private residence of Henry Clay Frick, now one of the city's greatest art museums.
The James B. Duke House (today NYU Institute of Fine Arts) modeled after a French château, this was the home of Doris Duke, the "richest girl in the world."
The Payne Whitney House (today Cultural Services, Embassy of France) where a statue by the teenage Michelangelo was rediscovered in the 1990s.
The home of Otto Kahn one of the most famous bon vivant of the 1920s who may have been the inspiration for "Mr. Monopoly."
Harry F. Sinclair House (now The Ukrainian Institute), an elaborate mansion with most of the original design intact.
The Cooper-Hewitt National Design Museum Smithsonian Institution, the former home of Andrew Carnegie, who described the 64-room mansion as "modest and plain."
---
Our tour guide Emma with a private tour.

A recent sold-out public tour.
A review on TripAdvisor for our Gilded Age Mansions Tour:
Gilded Age Tour – Thanks, Billy!
"Did the Gilded Age Mansions of Fifth Avenue tour with Billy and had a wonderful experience! He was knowledgeable, entertaining, and fun. Even as a New Yorker the Bowery Boys Walking Tours are so interesting – would highly recommend!"
Press: The tour was featured in The Boston Globe in 2022!
Rates
Person – Walking Tour: $40.00
(Best suited for adults and most children over 8 years old.)
Private Gilded Age Tours
Let us organize a very special experience for your group or organization to see the Gilded Age mansions of Fifth Avenue. Please contact us to set up a private tour!
---
Duration
Walking Tour: 2 hours
Please note: This tour does not go inside any of the mansions. We will send you the meeting place when you sign up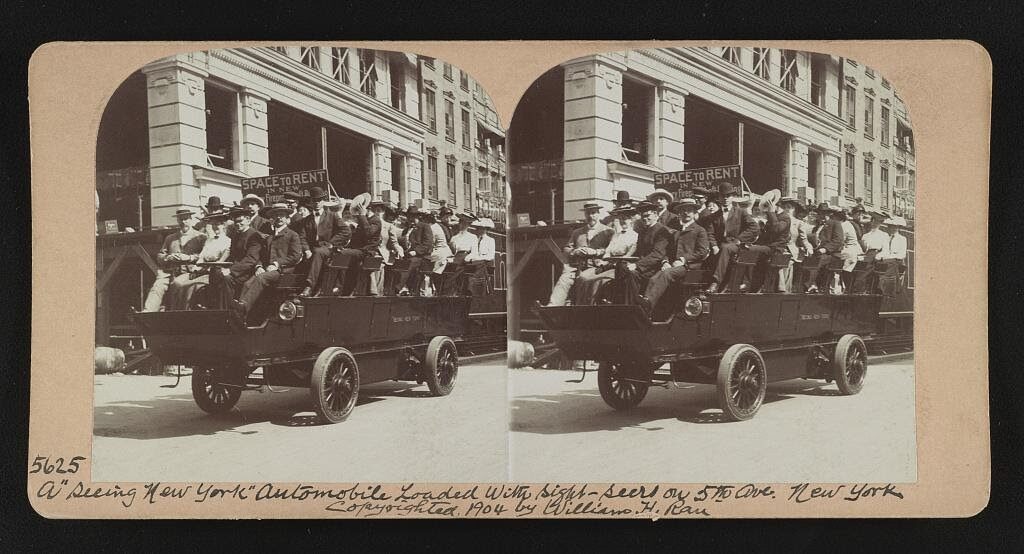 Your guides
Emma Guest-Consales, Ph.D.

Billy Nemec

Aaron Schielke
Emma Guest-Consales, Ph.D. is an experienced guide, lecturer, and author who has taught art and architectural history in New York City for more than fifteen years. Emma also leads the Ladies' Mile Cast-Iron Tour and Central Park History and Landscape tour.
Billy Nemec is an experienced tour guide and jazz musician with a deep knowledge of the Gilded Age. He has a certificate of Historic Preservation from New York University.
Aaron Schielke is a licensed New York City tour guide who loves exploring cities. He also leads the Jane Jacobs vs. Robert Moses Bowery Boys Walk.
Study up for our walking tour by listening to The Gilded Gentleman episode "The Gilded City: New York 1870 – 1900."