The Bowery Boys are very excited to launch their newest New York walking tour: a Brooklyn Bridge walk with Kriss Roebling, the great great grandson of Washington and Emily Roebling, the famous builders of the world's most iconic bridge.
We recently had a chance to explore the Brooklyn Bridge with Kriss and see some of the rare artifacts from his family collection. After taking the tour, we can assure you that you are in for a treat!
We also had a chance to talk about his special family connection to the bridge, what inspired him to start giving tours, and why he loves the Bowery Boys podcast.
---
Interview with Kriss Roebling
What was it like to grow up as a Roebling knowing your family's intimate history with the Brooklyn Bridge?
It was nice to have a familial connection to the builders of the Brooklyn Bridge, and to their amazing story, but my parents (who were in the arts) also emphasized the importance of one's own creative output and the contributions one makes to the world in one's own lifetime. I guess you could say that I was proud of my family history, yet careful not to lose my own identity to that history.
What is your first memory of the bridge?
It was a children's storybook that I was given which was about the building of the Brooklyn Bridge. I loved that book and read it over and over again. I remember the illustrations of the Brooklyn Bridge in that book even before I remember seeing the Brooklyn Bridge in person.
What inspired you to learn more about your family history and great great grandparents?
I'm not sure if I have ever tried to learn about my family history than I simply absorbed it naturally and without effort over the years. I think of myself more as a witness to that history as it has been handed down to me rather than a scholar of our history or even as a tour guide. I simply remember what I was told at the dinner table very, very well.
That said, as it became clear that people really enjoyed how I told my family's stories, and I was inspired to perfect my presentation. I love how much the stories excite and please people, so I've done my best over the past three decades to learn how to tell them in the most compelling and elucidating way possible. It's the joy that these stories give other people that make this Brooklyn Bridge walk such a pleasure for me.
How did you start giving tours of the Bridge?
About 30 years ago, I started giving these walks for friends and family who visited from out of town. The word got out that I did these walks, and so friends started asking me if I could do my Brooklyn Bridge walk for their friends — and so on and so on until I was doing my Brooklyn Bridge walks for complete strangers. Sometimes I couldn't even determine how I knew the people whom I did my walks for, that's how many degrees of separation there were after a while!
Also, I sometimes enjoyed walking up to random people on the Brooklyn Bridge and offering them a surprise experience such as what I would offer my friends, but that rarely worked out well. Everybody always thought that I was trying to con them in some way.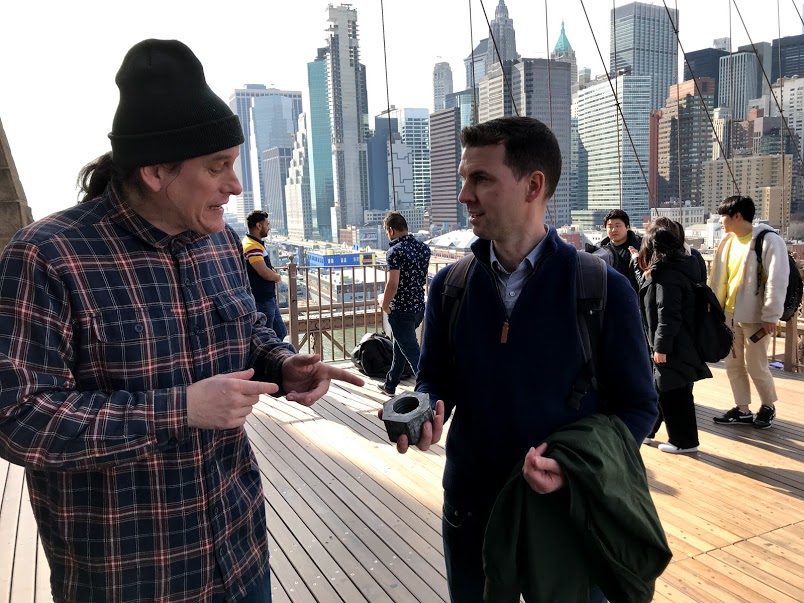 What's your favorite Bowery Boys podcast episode?
Oh God, there are so many that I don't know where to start! I was introduced to their podcasts only about a year ago, so I still have a lot of catching up to do, but for a lover of New York City history, their podcast is true ear candy.
There's something about learning what happened previously where you stand in the here and now which adds such three-dimensionality to one's world. I love learning about what made my surroundings into my surroundings. The Bowery Boys certainly satisfy that craving.
That said, to get specific, the Roosevelt Island episode stands out in my memory, as does episode #29 on the Brooklyn Bridge. Great, great stuff!!
What makes your Brooklyn Bridge tour with the Bowery Boys stand out?
Well, as I mentioned, I'm not a tour guide so much as a witness to my own family's oral history. As such, I can provide a slant on that family history which is unique, because it is imbued with the interpretations, asides, and gossip that only comes from being in the family. Then I underscore my stories by sharing relics and artifacts that are relevant. I like to think that I give people an opportunity to come face-to-face with the bridge's history rather than just get the "official story".
What are some of your favorite places in NYC (other than the Brooklyn Bridge)?
Although it has become quite gentrified since I started hanging out there in the early 1980s, DUMBO is still a stunning neighborhood. It is a beautifully preserved 19th-century industrial relic that's been re-purposed for living, dining, and general revelry. It's also surrounded by water on three sides, so there is a distinct sense of it's natural setting and marine culture, this being underscored by ship horns, seagulls, primordial river banks, and the ruins of maritime industries. Also, being a nubby peninsula of sorts, there is no real traffic in this neighborhood. People don't drive through DUMBO, they go there, so traffic is calm for the most part.
I also love Breezy Point Tip. It's difficult to get to, but it's worth the effort. You feel as if you are on some deserted beach (except during high fishing season), then you round the "tip", and there you are face-to-face with New York Harbor! It's a very cool place.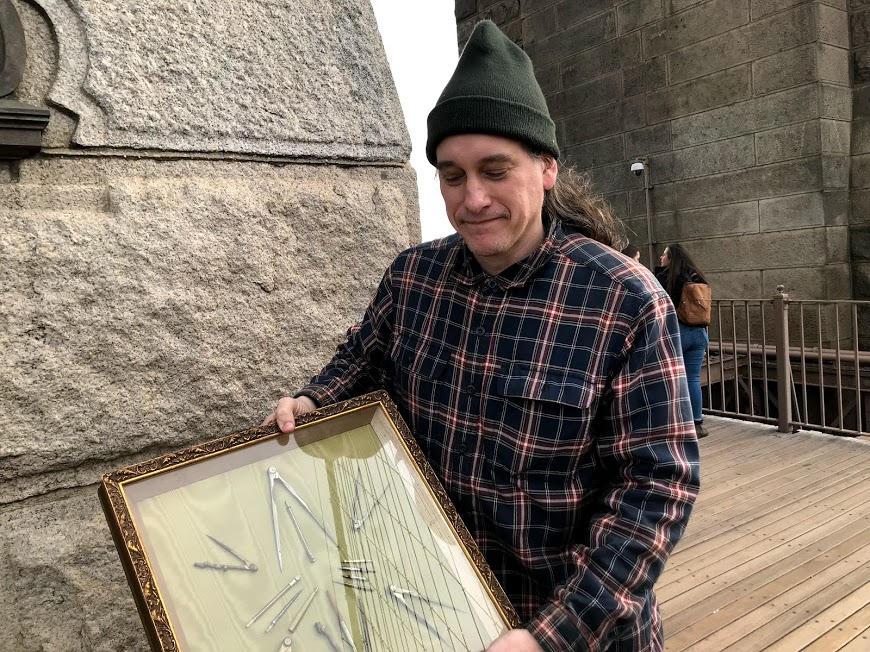 Join Kriss on the Bridge!
Do you want to take this one-of-a-kind Brooklyn Bridge walking tour with a relative of the famous Roebling family? Get your tickets to our very special Brooklyn Bridge History Tour with Kriss Roebling.