Gilded Tables with the Bowery Boys: The Outrageous Art of Dining in Gilded Age New York
You're invited to a virtual Gilded Age dinner party!
Who: Food historian Carl Raymond, joined by Greg and Tom, hosts of the Bowery Boys Podcast
When: Tuesday, April 13, 2021 at 5 pm (New York Time)
How: We will send you a Zoom link on the day of the event
Where: In the Gilded Age, so dress appropriately (if you want)!
---
Your hosts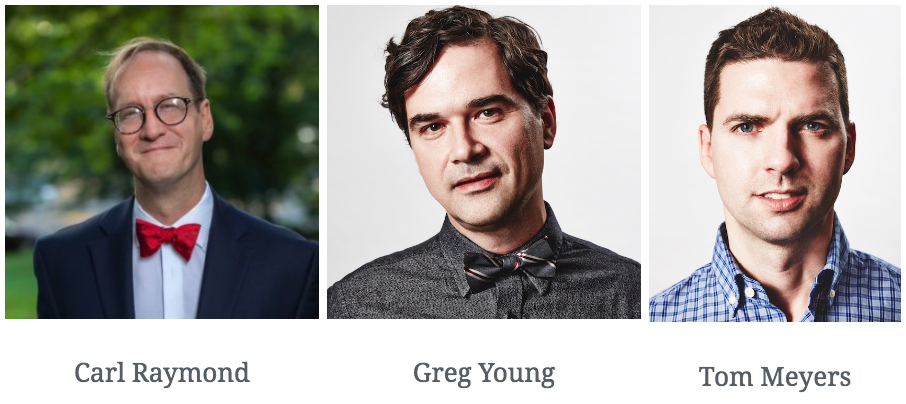 ---
The event
Peacock anyone? How about a serving of antelope? Maybe a few truffles with your canvasback duck?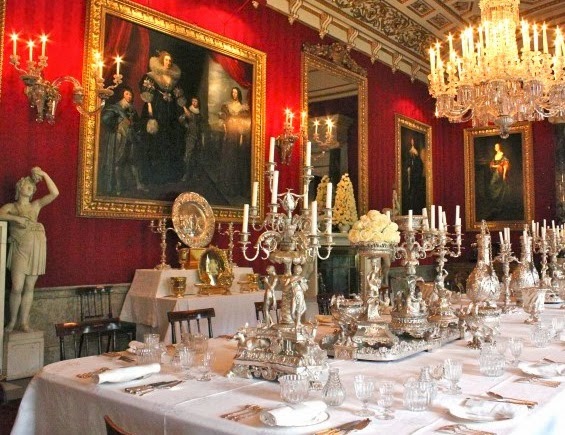 It's no secret that dining during the height of New York's Gilded Age was nothing if not ostentatious and outrageous. From the 1870s into the early 20th century, the wealth of America's new elite knew no bounds, and they wanted to show it on their gold and silver-laden dinner tables.
Join the Bowery Boys, Tom Meyers and Greg Young, as they welcome and toast the evening's host, culinary historian and Bowery Boys Walks guide, Carl Raymond. Take an inside look at the recipes and restaurants, along with the chefs and the caterers who brought the dinner tables of this city to a whole new level.

Reserve your spot at the table now!
Carl will share with you fantastic dinners from Delmonico's, New York's famed restaurant that set the standard for fine dining, as well as specially catered dinners and balls created by the master restaurateur Louis Sherry in the private ballrooms of Mrs. Vanderbilt and Mrs. Astor.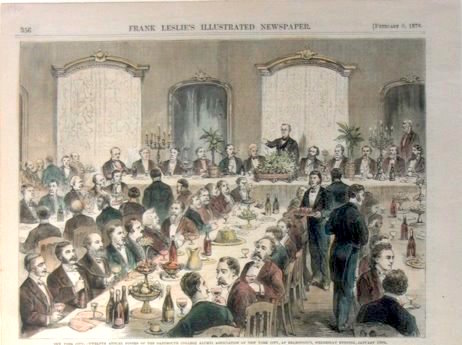 Using rare archival material, you'll be able to look over the shoulder of Gilded Age icons such as financier J.P. Morgan and architect Stanford White (including an intimate romantic dinner for two with White and a mystery woman!).
In addition, you'll see how an actual Gilded Age dinner party would have unfolded, from the challenges of which course came next to which fork and glass to use.
Everybody, raise a glass to Roman Punch!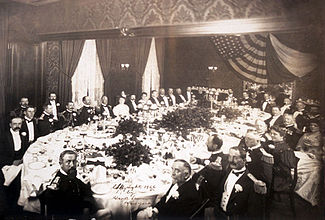 The mark of a truly formal dinner in one of Fifth Avenue's great mansions would have been the inclusion of a Roman Punch midway through a meal. During the Gilded Age, Roman Punch was a highly alcoholic iced palate cleanser, but in modern times has been reinvented as a rum and champagne-based cocktail. During our event, the Bowery Boys will make their own Roman Punch concoction and raise a glass to this lost era — and don't worry, we'll send you the recipe beforehand so you can join us in the toast!
In the last section of the event, Tom, Greg and Carl will come together for a live interactive talk with the audience to review some of these incredible moments in food history. We guarantee you'll be hungry at the end and may even want to try an over-the-top blowout grand dinner of your very own.
---
Highlights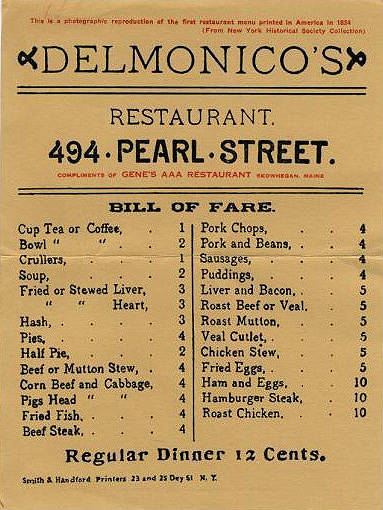 Discover the over-the-top food and recipes of New York's Gilded Age dining scene
Intimate details about grand dinner parties hosted by the city's most prestigious families.
Rare archival material including historic menus and photos.
A special toast with the Gilded Age cocktail Roman Punch. (We'll send you the recipe so you can make your own!)
Live Q&A with Greg and Tom of The Bowery Boys
Details
Date: Tuesday, April 13, 2021. 5 PM – 6:30 PM (New York Time)
Tickets: $30
Duration: 90 minutes (includes Q&A)
Please note: This is an online experience. We will send you a Zoom link on the day of the event.

---