New York World's Fair Tour: 1939/40 and 1964/65
Walk through the "World of Tomorrow" !
---
What's better than reliving a World's Fair? Reliving TWO World's Fairs at once!
Long-time World's Fair historian and collector Kyle Supley will lead this fun and fascinating tour. Explore Flushing-Meadows Park in Queens with one of the most passionate World's Fair aficionados in New York.
Upcoming Dates:

Virtual Tour via Zoom:
Wednesday, December 8th at 7 PM ET
Wednesday, January 26th at 7 PM ET
Book the World's Fair virtual tour now!
The Walking Tour
Tour the original site of the New York World's Fairs of 1939/40 & 1964/65 with an expert guide. Historian and World's Fair collector Kyle Supley will lead you on a fun-filled and fascinating walk, in which you'll hear about the planning and construction of the Fairs, while seeing many of the fairground's most famous sites in person.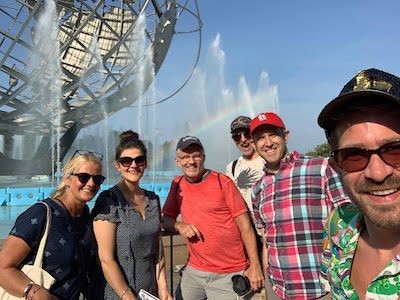 You'll see the site where Salvador Dali had his living art installation, where Michelangelo's Pieta graced the grounds, where the first talking (and smoking) robot entertained, and where two time capsules still exist (and will until the year 6939)!
You'll learn why the Fairs were located here, the drama of planning and construction, and the Fairs eventual conversion into Flushing Meadows-Corona Park.
Tour highlights
Get ready to visit…
Remnants of both the 1939-1940 and 1964-1965 Fairs
Where the first commercial television was shown to the public
The spot where Borden's "Elsie the Cow" mooooved her audiences to tears
The site of a singing and smoking robot-man and his pet dog, Sparko!
Where an Andy Warhol Mural about convicted felons was almost displayed!
The spot where Johnny Weissmuller, aka "Tarzan", did high dives before thousands
Where a miniature New York City exists to this day…
… AND much, much more.
The Virtual Tour
Tour the site of the New York World's Fairs of 1939/40 & 1964/65 from your computer through historic photos and videos. This live online presentation brings the history of the New York World's Fair to life on your screen. you'll hear about the planning and construction of both Fairs, while seeing photos and videos of the sites of the Fairs' most famous exhibits. Your guide Kyle will even share one-of-a-kind memorabilia from his personal World's Fair collection!
Duration
Walking Tour: 2 hours (we will send you the meeting place after you book)
Virtual Tour: 90 minutes with Q&A (we will send a Zoom link after you sign up)
---
Rates
Person – Walking Tour: $40.00 / Virtual Tour: $20.00
(Recommended for Ages +)
Please contact us to set up a private tour!
---
Upcoming dates
Please click to see upcoming dates for this tour – or check this list of all upcoming tours, by date.
Looking to study up before the tour?
Prep for our New York World's Fair Walking Tour by listening to the episode "The World of Tomorrow".