Join us, as we trace Greenwich Village's history from the Dutch days to Gilded Age New York, to the Beats and bohemians of the 1950s and 60s, to today.
---
Greenwich Village's "Hidden History" tour overview
Greenwich Village, or "The Village" as it's known to New Yorkers, has long been a center of bohemian culture that influenced the city and the world.
The Village has been home to artists and activists that helped create American culture, including Mark Twain, Edna St. Vincent Millay, Edward Hopper, Louisa May Alcott, Edgar Allen Poe, Bob Dylan, Eleanor Roosevelt, Gertrude Vanderbilt Whitney, and New York's great urban activist Jane Jacobs. It is currently home to celebrities like Sarah Jessica Parker, Robert De Niro, and Anderson Cooper, among others.
The Village has also been the scene of events that profoundly shaped American history and politics.
Join our tour guide as we travel back in time and trace the footsteps of notable "villagers" — from Native Americans to the Beats and bohemians and today's famous (and infamous) denizens.
On our tour of the Village's twisting streets and lovely parks, we'll visit many of the area's famed and notorious sites, discovering little-known facts and fascinating tales that lie around every corner.
Upcoming Dates:
Sunday, October 29th at 2 pm
Book the Greenwich Village in-person walking tour!
---
Tour highlights:
A visit to Greenwich Village's oldest living inhabitant
An insider's look at Washington Square Park and tales of what (and who) lies beneath
Pass by such famous artists' and writers' homes as Jackson Pollock, Edith Wharton, Mark Twain
Visit the last Victorian gaslight still standing in New York
Wander by cafes where celebrities such as Barbra Streisand, Jimi Hendrix and Bob Dylan got their starts
See extraordinary architecture by masters such as Stanford White
Learn the history and secrets of some of the area's most charming secluded courtyards and alleys
---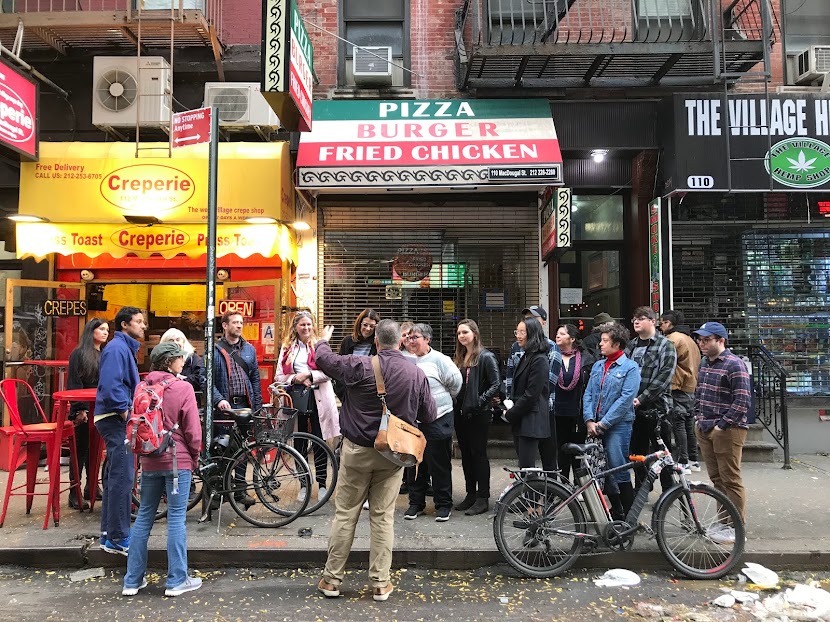 A recent TripAdvisor review about the Greenwich Village Tour:
"My wife got me the walking tour for my birthday. We don't get to NYC as much as we used to so I thought it was a great idea. We used to spend a lot of time in the Village when we were younger and I thought this would a real "touristy" thing. I was surprised that the majority of the people on this tour were New Yorkers. Our guide was great; informative, engaging and well versed on the village's history; the 2 hours went by fast. We both remarked how we used to walk these streets and never know just how much history there is. Highly recommended for out-of-towners and locals!"
Rates
Person – Walking Tour: $40.00 / Virtual $20.00
(Best suited for adults and most children over 8 years old.) 
Please contact us to set up a private tour!
---
Upcoming dates
Please click to see upcoming dates for this tour – or check this list of all upcoming tours, by date.
---
Duration
Walking Tour: 2 hours (we will send you the meeting place after you book)
Virtual Tour: 90 minutes with Q&A (we will send a Zoom link after you sign up)
Your guide
Prep for our Greenwich Village Walking Tour by listening to the episode "Greenwich Village in the 1960s".