An Insider's Look at Gilded Age New York with Carl Raymond, host of The Gilded Gentleman

A very special tour with Carl Raymond, host of the Gilded Gentleman
Join Carl Raymond, Bowery Boys Walks guide and host of The Gilded Gentleman History Podcast (produced by the Bowery Boys) for this unforgettable tour.

The great American novelist Edith Wharton was a New Yorker. Although she spent tremendous parts of her life traveling in Europe and ultimately settling in France, it was the Gilded Age metropolis of New York in which she set the majority of her major fiction and stories.
This unique tour will trace the life and quite literally the footsteps of Edith Wharton through the streets and neighborhoods she and her famous characters knew so well. Our explorations will include not only sites associated with Wharton's life but also locations used as settings for her novels.
Upcoming Date:
Check back for future dates
The Tour
Beginning in the Flatiron district, we'll travel down Broadway and Park Avenue South, through Gramercy Park, Union Square, Broadway, and end in Washington Square Park.
In addition to sharing the roots and development of America's opulent Gilded Age, tour guide Carl will include stories and lesser known anecdotes of Edith's life as well as tales of her notable friends such as Theodore Roosevelt and Henry James, as well as great Gilded Age personalities like architect Stanford White, actor Edwin Booth and society's greatest grande dame, the Mrs. Astor (Edith's own cousin!).
By the end of the tour, you'll have experienced an intimate glimpse not only of the beloved writer, but also the gilded, glamorous city she saw and immortalized in her fiction.
---
Tour Highlights
Wharton's birthplace
Madison Square Park – including a brief look at its history
St. Sava's Cathedral – the church (recently damaged by fire but still standing) where Edith married Teddy Wharton in 1885
Calvary Church – the Park Avenue church Edith knew as a girl
Gramercy Park – a tour around the park including histories of landmarks, such as the Player's Club
Union Square and Irving Place – including the Gilded Age site of Tiffany and Co.
Site of the original Academy of Music
Grace Church – the society church where Edith was baptized and which she used as a setting in "The Age of Innocence"
Broadway and Fifth Avenue – including a look at a few of the Gilded Age mansions that remain
Washington Square – a stop at the home Edith and her mother shared in the 1880s.
Meeting point: We will send you the location once you sign up for the tour.
A recent review from TripAdvisor:
Edith Wharton's New York with the lovely Mr. Raymond

"If you are a fan of Edith Wharton, this walking tour is your Holy Grail! During two hours, as we walked from Madison Square Park to Washington Square, all the skyscrapers and busy traffic disappeared giving place to brownstones, broughams, and beauty. The wizard that had us all entranced was Mr. Carl Raymond, former opera singer, current foodie, historian and one of the best history tellers I had the pleasure of knowing. The best walking tours are those that leave you craving for more. Well, mission accomplished Mr. Raymond (and Bowery Boys)!"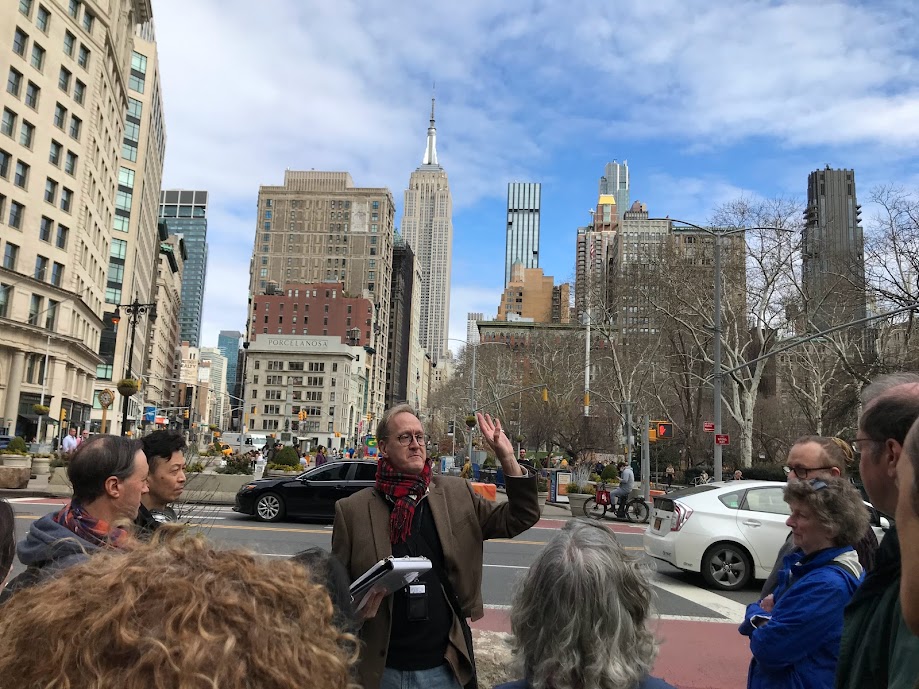 Price
$60 per person
Duration
2 Hours
(Best suited for adults ages 16+)
Private Tours
Carl Raymond, the host of The Gilded Gentleman, leads special private experiences of his Edith Wharton's New York Tour. Contact us for more details and pricing.
---